Clogged Drain Overflow Restoration Near Fort Wayne, South Bend, Granger
We can repair water damage caused by a clogged toilet, sink or bathtub
Monroe Restoration provides fast, expert restoration services in response to clogged drains, overflows and other plumbing disasters.
Water damage from clogged drains and overflowing fixtures or appliances arrives with no advance notice. Suddenly you have massive amounts of water where it doesn't belong. Even after the actual water has been removed you will find yourself stuck with water damage to your cabinets and other surrounding property.
At Monroe Restoration our trained technicians will help you restore your home to the way it was before. We can replace, repair, and restore damaged cabinets and other pieces of furniture so that you can hardly tell that there was water damage in the first place.
Do you have water damage that needs restoration? Give us a call today at 1-844-804-1620 or click below to schedule your free estimate!
Get an Estimate
Call Monroe Restoration or contact us online for sink overflow restoration, toilet overflow restoration and other water overflow problems. We work throughout the Northwestern IN area, including South Bend, Fort Wayne, Granger and surrounding areas.
We remove water & repair any damage left behind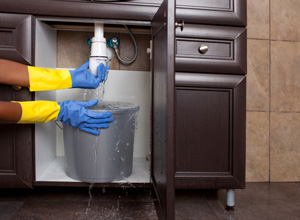 Prevent clogs to avoid a mess. An overflowing drain not only creates a wet mess, but it can result in serious water damage. Sink or toilet water may also contain bacteria that can be hazardous to your health. The best way to deal with an overflowing drain is by keeping drains clear.
A wide range of repair and restoration work must often be performed in response to a clogged drain and water overflow problems. Monroe Restoration is equipped and ready to take on whatever type of water emergency you may be experiencing.
While the best way to avoid an overflowing kitchen or bathroom drain is by keeping your drains free of clogs, this is sometimes easier said than done. If and when your sink, bathtub or toilet does overflow, our specialists can respond quickly to restore your damaged property and take steps to prevent mold.
If you live in or around the Northwestern IN area of Indiana and Michigan, contact us today to schedule an inspection and estimate for water damage restoration. The sooner you take care of the water problem, the better.
Looking for a price? Get a no cost, no obligation free estimate.