Frozen and Burst Pipe Restoration Near Fort Wayne, South Bend, Granger
We can handle all types of restoration and repair needs in your home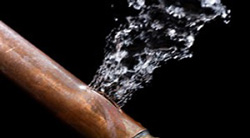 As water freezes, it expands about 10 percent in volume. That pressure can cause a rupture.
Pipes don't freeze, but the water inside them may. When temperatures plummet, the water expands as it turns into ice and could exert enough pressure to rupture a pipe wall or break apart a pipe joint. Such leaks, if undetected right away, can cause significant damage to floors, carpeting, drywall, and fiberglass insulation.
Burst copper pipes used to supply water to plumbing fixtures or to circulate water to baseboard radiators are common sources of major leaks. Pipes may also burst for reasons other than freezing, such as when a carpenter accidentally drives a nail through one, but freezing is the most common cause of pipe leakage. When leaking or burst pipes strike, Monroe Restoration is the company to call to restore your living space.
Monroe Restoration is Northwestern IN's leading water damage repair and restoration company. We have the expertise and equipment to handle a variety of water-related disasters, including burst pipes, clogged drain overflow, and flooded basements. Contact us today to schedule an estimate for water damage restoration in South Bend, Fort Wayne, Granger and nearby.
Common causes of leaking, burst, or frozen pipes
Insufficient insulation
Insulation that has been damaged or dislodges
A malfunctioning heating system, typically while homeowners are away
Corrosion, typically at a soldered joint
Damage to a pipe during remodeling activities
We offer frozen and burst pipe restoration services in IN and MI
After the burst pipe leak has been stopped and repaired, rely on Monroe Restoration to handle your
water damage restoration needs. We restore the pipe and take steps to avoid mold problems. Oftentimes the water will have caused extensive damage to drywall, cabinets, and other items in your home. Monroe Restoration can help by restoring these items back to normal and removing all traces of the damage.

Monroe Restoration is your frozen and burst pipe restoration company. We also offer services to help with restoration due to a sink overflow or clogged drain. We will help you prevent future frozen pipe leaks by assessing what caused the pipe to burst in the first place, upgrading insulation around it, or relocating it to a less vulnerable place when possible. Call or email us today for an estimate in Fort Wayne, South Bend, Granger, Portage, Niles, Saint Joseph, Mishawaka, Elkhart, Huntington, Michigan City and surrounding areas in Indiana and Michigan.
Looking for a price? Get a no cost, no obligation free estimate.